Benjamin Odell Howard, better known to all of us as Ben Howard, was, as you all know and I but remind you, a rather quiet, wistful and introspective chap with a limp in his later days. But I also hasten to note that he was a completely original individual. There probably never was nor will there ever be another human being as interesting as Benny, as intelligent, as exasperating, or as lovable.
He was born one year after the Wrights' first flight at Kitty Hawk, but only 20 years later this man with only a grammar school education flew an airplane he had designed and built himself. That was in 1924 and yet by 1930 he built the smallest racing airplane ever built, which he called "Pete" and managed to place third with it in the National Air Races.
That was the start of an amazing career designing and building racing airplanes. The greatest and probably the most successful one he or anyone else built in those days was Ben's "Mr. Mulligan". Among many exploits with this beautiful airplane the outstanding one was Howard's winning the 1935 Thompson Trophy.
Our dear friend about this time commenced building and designing other light airplanes to which he gave the basic designation "DGA". Damn Good Airplane. And they are just that.
Ben and his wife, dear to us all as Mike Howard, were both nearly killed by a propeller failure over New Mexico in "Mr. Mulligan" when they were well in the lead in the Bendix Transcontinental Race in 1936.
Both recovered from most serious injuries but Ben lost a leg and gained a life-time limp in this crash.
That, however did not slow this pilot's progress very much. He flew airmail and passenger transports, became an outstanding test pilot and was recognized by aircraft designers as a natural aeronautical engineer. Benny was said to be an aviators aviator, and was also credited as a man who from natural, inborn ability, could frequently spot flaws designed by the most competent graduate engineers.
And with all the many marvelous accomplishments of this man as a pilot, as a designer of airplanes, a builder of airplanes, and in recent years manager of his own manufacturing company, Ben never lost his charm, his warmth, or his glowing personality.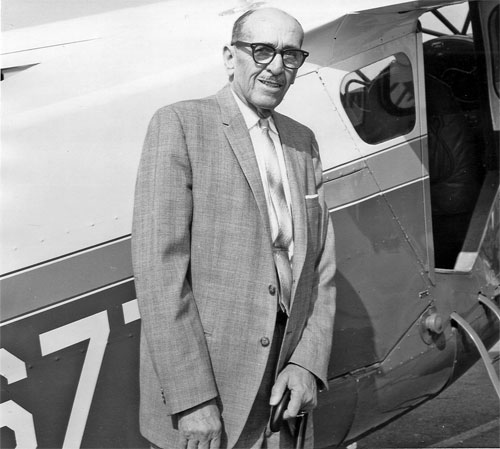 To be with Ben and his fine helpmate Mike, just shooting the breeze over a highball was always the most pleasant occasion a friend could wish for. Where his sharp and incisive mind could cut deeply into anyone with pretense, he never had anything but kindly feelings and warm relations with those he loved. And there are many of them here today and many who have preceded Benny on his present journey.
He will always be known and forever respected by all aviation minded people. He has now joined the great company of the really great ones in aviation, those zealots and heroes who have preceded him to Valhalla.